Stylish Ways To Rock Chic Ankara Kimono
Kimono has been in fashion for quite a long time. The kimono is a piece of clothing inspired by traditional Japanese robes; however, modern kimonos are updated with beautiful prints, sleeves, and detail.
Kimono which is also referred to as kimono jacket is perfect for ladies who want to look elegant, feminine and comfortable in a unique way.
However, African designers displayed their ingenuity when they started making stunning kimono jacket styles using the Ankara print. These kimono jackets come in all sorts of beautiful Ankara patterns, colours and details. They also come in varying lengths. However, the length of the kimono jacket is based on individual choice.
The styles are trendy, beautiful and comfortable to wear. You can opt for a short or floor-length Ankara kimono style as it's all about choice and the fashion statement you want to make. This cover-up piece will definitely give any outfit a cool, boho vibe look.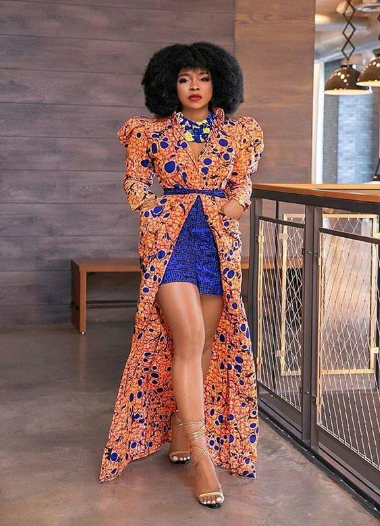 There is no limit to what you can wear with the Ankara kimono styles in your closet as long as it beautifully complements your outfit.
Kimonos are very versatile as you can wear absolutely anything you want underneath these cover-ups like shorts, fitted dresses, mini dress, skirt, pants, and t-shirts or crop top and denim. And depending on where you're wearing your Ankara kimono to, you can pair it with sandals, heels, flats or sneakers.
You should also know that donning Ankara kimonos are not only for the casual looks, as you can also style it with elegant combination and dresses as well to suit an official event.
You could also opt for a wide range of sleeve styles that will make your Ankara kimono jacket style striking.
So, if you are an Ankara lover, you should think of adding one or two beautiful kimono jacket styles in different colours, patterns, styles and lengths in your wardrobe.