Trendy Ways To Style Your Braids With Scarf
The braids style is loved by many women. This protective hairstyle suits every woman and is just perfect for any occasion.
Many women, especially in Africa love, braids no matter the style and that is because it's versatile, convenient, and comfortable. It is always a win, win hairstyle all the way.
However, the beauty of any style of braids is in the styling. Although there are many beautiful ways to style your braids, one way to style your braids and immediately draw attention to yourself is by styling it using a scarf or better still scarfing your braids in a stylish way.
You can use a bandana, Ankara fabric, or any other fabric that you like and feel comfortable with. You only need a little piece of the fabric to avoid adding extra volume to your lovely and voluminous braids for ladies who love their braids really full.
Styling your braids with a scarf is another cool way to make your braids look extra lovely and eye-catching. And there are so many creative ways you can style your braids with a scarf and standout immediately.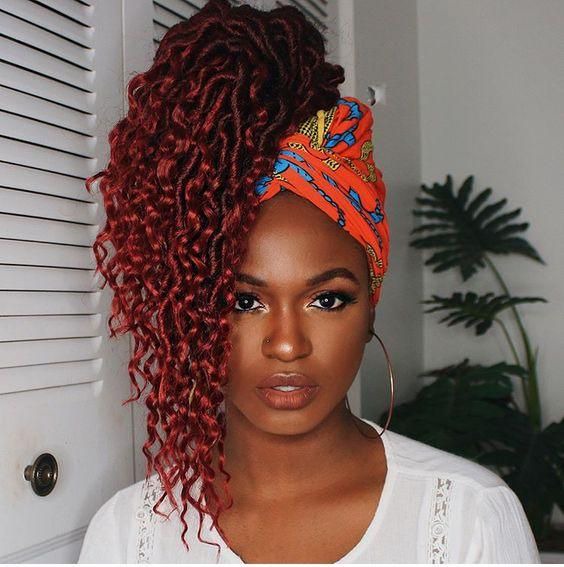 If your braids is already getting rough, before wrapping your braids, you should ensure to lay your edges with an old toothbrush and some styling gel if you so desire. Laying your hair edges also adds a touch of beauty to your look.
You can style your braids with a scarf in styles like a high ponytail, simple bun, side bun, top knot bun, straight down, and other styles that you want. The choice is yours to make.
Below are steps to achieve the high and side ponytails. However, there are lots of other styles you can opt for to make a gorgeous hair statement.
High ponytail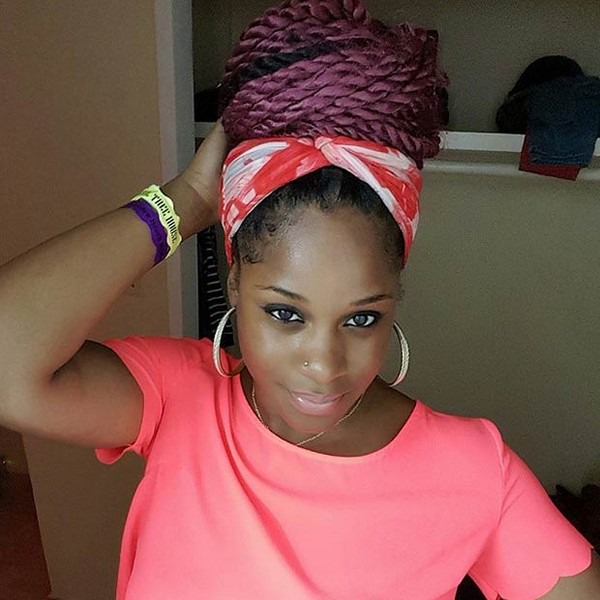 ·                    Style your braids into a high ponytail and secure it with a long elastic band.
·                    Pull some braids up so that that the ponytail is resting as high as possible.
·                    Using a scarf of your choice, roll it into a band. Starting from the back, tie it forward once and then twist it around your ponytail, tying it again.
·                    Tuck any loose ends into the ponytail itself.
·                    Arrange and adjust braids until you achieve your desired look.
Side ponytail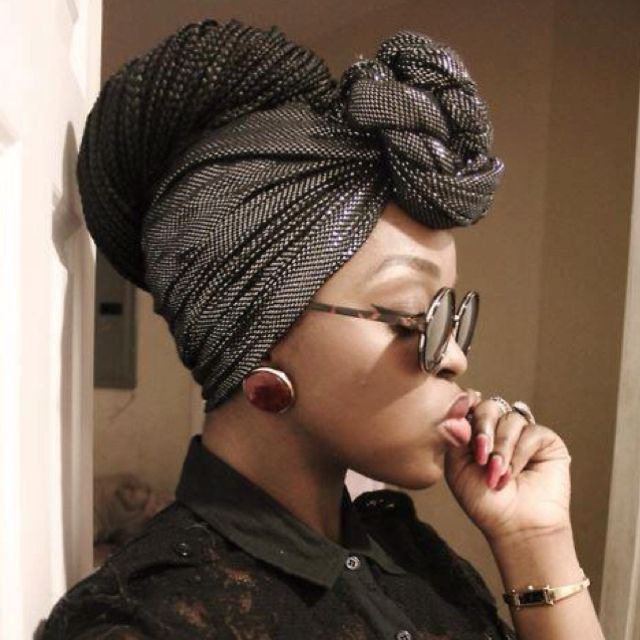 ·                    Just pull your braids into a high side ponytail and secure it an elastic band.
·                    Then, twist your scarf and simply wrap it around the band.
Styling your braids with a scarf gives you the chic girl look. But, you have to be creative about creating a style that will make you stand out.
So, create your own style today and be the cynosure of all eyes as you step out.