Jumia Travel had an interview with Amarachi, a Systems Engineer who runs 'Chapter One travel blog.' She shared her travel experiences and advice for travellers.
Kindly tell us a little about yourself and what you do?
Hi, my name is Amarachi. I'm a systems engineer who loves to travel. When I'm not at work, I run a travel blog called 'Chapter One' where I share some of my travel experiences.
You have visited 21 states so far in Nigeria and 18 countries all over the world. How would you describe your experiences in your travels?
Generally, they've been nothing short of amazing. I have gotten the chance to meet wonderful people everywhere I've been. Now, it feels like I know someone in every country and that's a big confidence booster especially when you travel alone.
What do you love the most about travelling?
Just the general feeling of experiencing something different than what I am used to. It could be the culture or the food, the sights or sounds.
What inspired you to start travelling?
I was introduced to the travel lifestyle at a very young age. My dad would move from place to place (within Nigeria) and we would get a chance to either move with him or visit and so, I grew up loving this lifestyle. But it wasn't until 2015 when I took my first solo tour Europe that I really embraced it.
We know that ChapterOne is about your travels, what else do you try to share with your readers?
The blog is mostly about my travel experiences but I also share tips about everything related to travel, from visa application processes to travel itineraries and costs required to visit featured places. I also love to write, so a few of my fictional works are also shared on the blog.
With all of your experience traveling, when would you say is the right time to travel in Africa/in Nigeria?
I'd say 'NOW' is the right time. If you have to wait for perfect conditions all the time, you probably won't be going anywhere! You do have to consider certain things like weather conditions, general safety and so on but there's always somewhere that's just right to visit at any given time.
Traveling can cost a lot of money. How do you afford to travel – are you rich?!  Trust Fund? Heiress? Tech Money? Oil Money?
Travel doesn't have to be [too] expensive, you know. I recently explored sites in two countries for only N20, 000. So, it can be done cheaply. That being said, I do have a full time job as a systems engineer and I am able to save money – in a separate travel account- to fund my trips. I live with a guardian, so I don't pay rent, I avoid compulsive shopping… basically, I do all I can to cut costs here and there.
What would you recount as the funniest or most embarrassing travel moment you have experienced?
Hmm, I got stranded once in a different country and had no choice but to beg for money from other tourists (or locals) around. My MasterCard suddenly stopped working and I had zero cash on me. I was traveling solo as well, so that was a bit overwhelming for me.
As for the funniest moment, I think it had to do with the time I wore my wristwatch upside down before going to bed. I woke up at about 1am but I thought the time was 7am and I had an event to catch up with at 7. I practically ran out of my room only to realize my mistake later on.
What are the three things that you certainly cannot travel without?
They'd have to be Malaria medicine, Vaseline (I have an unhealthy addiction to Vaseline. I hate my hands/feet being dry, so I take this product everywhere I go!) And the obvious one, a camera
You've been to so many of these places and frankly I envy you already, where else do you want to go?
I'd like to visit Morocco, take the Trans-Mongolian express from Russia to China and see the salt flats of Uyini in Bolivia. I'd also love to visit Japan and a few countries in Southeast Asia.
How much has traveling changed your view of the world?
Oh, it has given me a whole new perspective. I see now that people are the same everywhere, that there's good and bad. From my experience, good is most prevalent.
Tell us about some of the most interesting places you have been to in the different states and countries you have been.
Within Nigeria, I'd say the most interesting place I've been to for now is Erin Ijesha. I loved the waterfalls and the hike. It was truly beautiful. Outside Nigeria, top picks will have to be the Taj Mahal (India in general) and the Serengeti – I stayed in a tented camp in the middle of the park and went on a hot air balloon safari.
What steps do you take to ensure your safety while travelling?
Before the trip: I try to research on the places I'll be visiting and keep certain information handy, such as police numbers, hotel numbers, hospitals, etc. Also, details about how to get from the airport or bus stop to my accommodation is something I sort out as well.
At my destination, I try to keep a low profile. This means, no flamboyant jewelry or the likes. No late nights, especially in areas I am not familiar with.
Back home: Someone always has an idea of where I am or where I'll be going.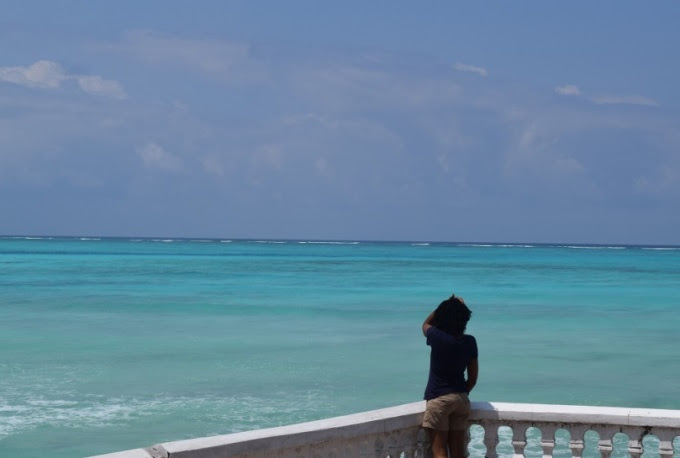 When you search for hotels, what amenities or facilities do you look out for before you book for a hotel?
Honestly, a good room does it for me. I also appreciate when there's a restaurant within the hotel that serves really great breakfast. I usually book a room that comes with breakfast added.
Most practical piece of advice for those planning travel?
Just go for it. It's okay and completely normal to be nervous. Do your research about the places you'll like to visit, be safety conscious and have fun!